Current Location: > > > FlowSlide for Solid Flow Measurement
Name:FlowSlide for Solid Flow Measurement
Type:FlowSlide
Introduction:


The FlowSlide is one of the most accurate flow measuring systems for free flowing solids.The measured product is guided over a circular slide chute. It then creates a centripetal force, which is directly proportional to flow rate. Because of the special design, the frictional forces cause the measuring slide to lift - so the measurement is largely unaffected regardless of bulk density, grain size and elasticity. The system can be factory calibrated with superb accuracy.The FlowSlide - system is delivered with a "self cleaning" - function based on pneumatic air nozzles.

Advantages
· Measurement independent from grain size and density
·Excellent repeatability and accuracy
·factory calibrated
·very low maintenance



Inside the FlowSlide meter the product is running over a curved slide. The product is generating a centripetal force directly proportional to the flow rate. Due to the special force transmission into the load cell, the measurement is almost unaffected by product density, grain size and friction. The FlowSlide system can be pre calibrated within +/- 3% of range.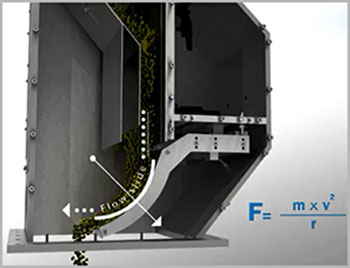 Grain size range

0 - 30 mm (typical)

Density range

0.04 - 3.5 kg/ l

Sensor

C3 /

Full bridge strain gauge sensor (optionally ATEX approved for zone 0/20)

Power supply

5-15 VDC

Sensor protection class

IP 68

System accuracy

+ / - 0.5%

Repeatability

+ / - 0.1%

Materials

Product touching parts

Stainless steel

Housing

Aluminium - optional stainless steel or plastic

Total height

FlowSlide = 700 mm / Maxi FlowSlide = 1050mm

Capacities

10/25/50/80/150/300

m³/h

Electronics

Display

Bright coloured graphic display

Supply voltage

110 - 250V / 12 - 30 VDC

Sensor input

Full bridge strain gauge / inputs for taring & batch start

Output

counter pulse

(225 times/ s)

Output (Optional)

4 - 20MA / RS-232/485 / PROFIBUS / MODBUS /

Batch contact

Enclosure

Stainless steel

Type of protection

IP 67

Mounting

wall- or panel mounting

Working temp. Range

-10°C - 40°C
Precise and maintenance free Flow Meter for free flowing solids, especially used in chemical, building materials, metallurgy, mining and other industries.